Sarah Kurtz, PhD
"The beautiful thing about renewable energy is that the more you use it, the cheaper it gets, which paves a pathway to prosperity for the whole world."
After more than 30 years at the National Renewable Energy Laboratory, I am very pleased to join the faculty of the University of California Merced. I am excited to support UC Merced in educating the next generation of leaders and to do the research needed to accomplish the clean energy transition at an even lower cost than what we pay today for electricity.
School: Engineering
Department: Materials Science and Engineering
Professional Appointments:
Chair of Materials and Biomaterials Science and Engineering Graduate Program
Member of National Academy of Engineering
Testbed 3 lead for QESST
Advisory Board member for a number of organizations
Research: "I started research on amorphous silicon solar cells in 1980 and feel very privileged to be a small part of the success of solar in the last 30 years! I worked on multi-junction III-V solar cells, helping Jerry Olson at the National Renewable Energy Lab (NREL) to launch his invention of the GaInP/GaAs solar cell. At the time it was patented, that invention was assumed to be worthless, so NREL didn't retain title and later had to ask the Department of Energy to give the title back. Now the grandchildren of those solar cells power most satellites and even powered some of the Mars rovers. In an effort to help those solar cells also be used to generate electricity on earth, I spent about ten years working on the reliability of solar modules and systems.
When I moved to UC Merced late in 2017, I wanted to support California's transition to zero-carbon energy, but it wasn't clear what would be the best approach. I was hesitant to join the growing effort on modeling of tomorrow's energy system because I don't trust the models. These models use something like a million inputs and create about a million outputs and how would one ever know if the results are meaningful (garbage in will give garbage out and who really knows what a battery will cost in 10 or 25 years?) But, after substantial reflection I decided that a modeler who is skeptical of models might be able to make a contribution, so I wrote a proposal and won over a million dollars to model long-duration storage. I am currently leading a team including UC Merced, UC Berkeley, UC San Diego, the University of North Carolina Chapel Hill, and the University of Texas Austin to study the value of long-duration storage toward meeting California's goals to decarbonize the grid. 
I also have the hardware to measure outdoor performance of solar panels and am hoping to be able to study performance of tandem solar panels (tandem solar panels use two different materials, one to convert visible light and another to convert infrared light to electricity).
Solar energy is becoming more prevalent and there are many opportunities to join research efforts – my group has wide ranging conversations about all aspects of the energy transition."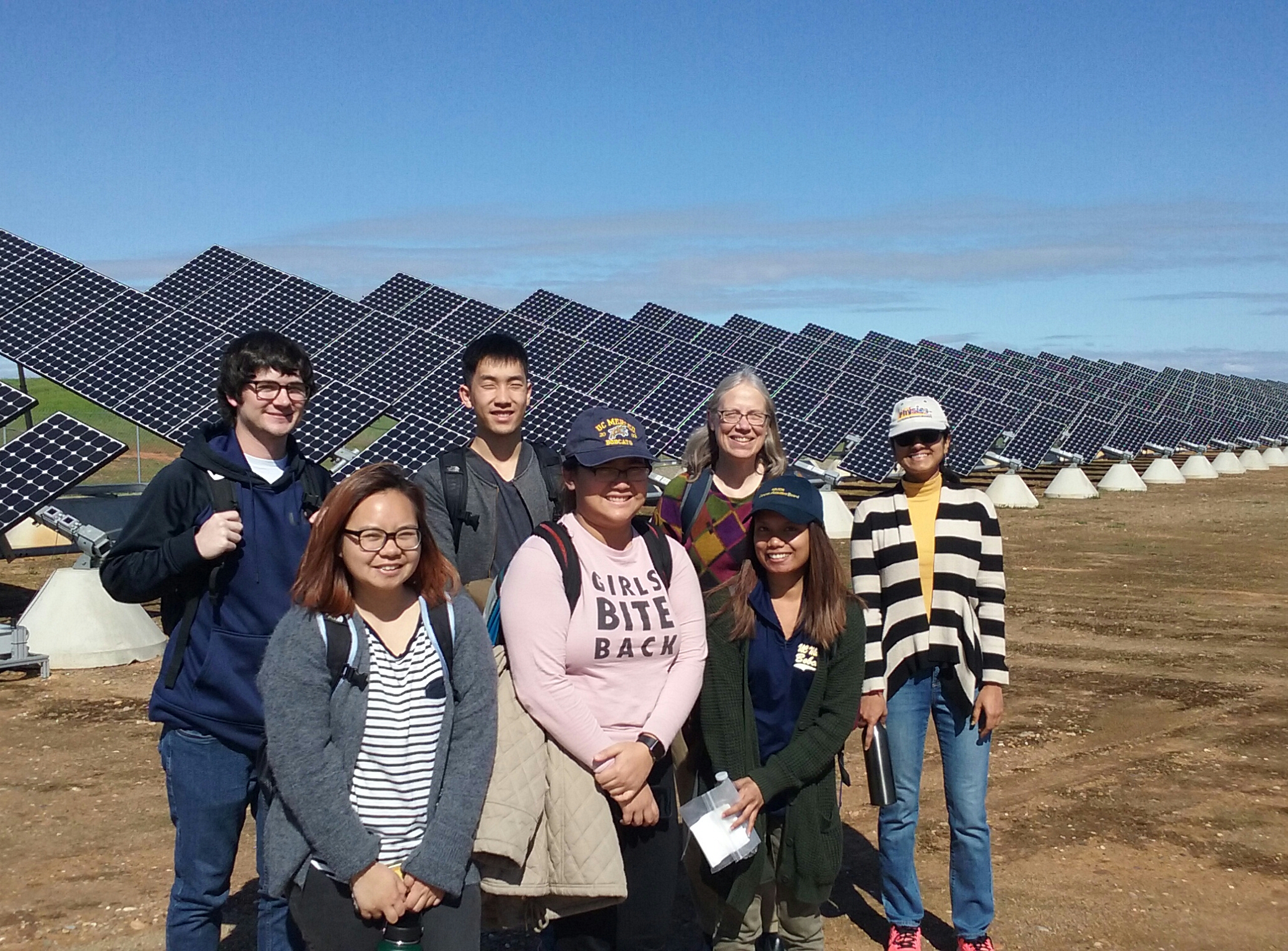 UC Merced students learn about solar energy and the effects of dust on solar panel output in Merced
Courses & Learning Outcomes: 
"MSE 010: Intrigue of Everyday Materials in a High-tech World: (Undergraduate) Fall 2021
This new course will be a 2-unit course designed to introduce students to Materials Science teaching the fundamental concepts of Materials Science as well as experimental design, data collection and data analysis while targeting fun projects. Does an M&M really melt faster in your mouth than in your hand? What materials property do you need to understand to be able to poke a needle through a balloon without popping it?
ES 260: Sustainable Energy: (Graduate) Spring 2022
This course is being separated from the undergraduate version starting in 2022. It will include all aspects of the energy system with special focus on renewable electricity technologies and the supporting technologies that are needed to make renewable energy successful. Three key elements of tomorrow's energy system will include: 1) renewable electricity (think wind and solar), 2) electrification (which can improve efficiency to reduce energy needs by a factor of three!), and 3) a flexible grid (which includes not only storage, but demand management and load shifting using many strategies and new technology).
MBSE 299: Solar Cells, Modules & Systems: (Graduate) Fall 2022
This course was taught once before and will be taught next in Fall 2022. It expects graduate students to understand how solar cells work and also how these are implemented in solar panels and then connected to the grid as a major power source. In 2020, 22% of the electricity generated in California came from solar panels – the students of this course should know where to find and track such data."
How did you get engaged with sustainability?
 "In 1980 when I was selecting a research professor for my graduate work, Prof. Roy Gordon was starting an effort to make inexpensive solar cells. It sounded like a great opportunity. After I finished my graduate work, I got a post doc at the Solar Energy Research Institute, which is now the National Renewable Energy Laboratory. After a year as a post doc, I was hired as a scientist and worked there on solar energy for more than 30 years."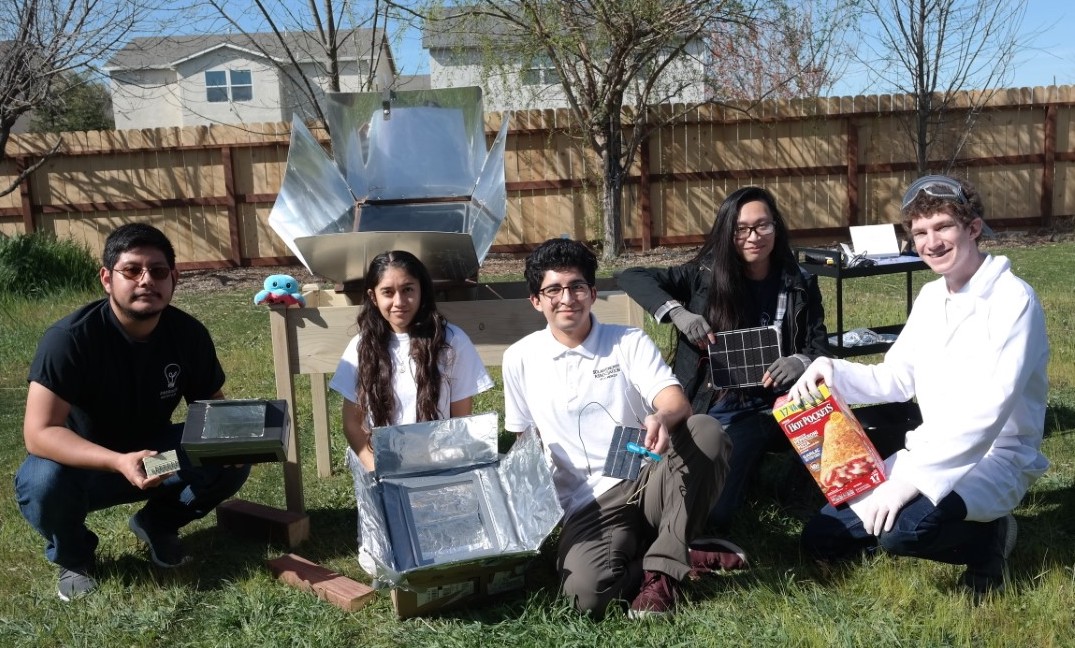 Students in UC Merced's Solar Energy Association learn about solar ovens.
How is your teaching and/or research making a difference?
"Our research is looking for how to execute the energy transition and lower costs at the same time. For example, as we start using electric vehicles (EV) will we charge them directly from solar energy or will we charge them from batteries that were charged by solar energy. I think UC Merced should cover all of the parking lots with solar panels and install charging stations so that anyone who parks at UC Merced can charge their EV while on campus. What if all of the shopping malls had solar panels over their parking lots and offered free charging of EVs between 10 am and 2 pm, would you spend longer shopping there and then be able to drive your EV without generating carbon dioxide?
Many of the students who I interact with look for jobs with the solar industry.
I'm really excited that Kaycee Chang, who started the Solar Energy Association at UC Merced, is now working at the California Energy Commission managing research project on solar energy and related things."
Research grants in the past 4 years:
Modeling of Long Duration Storage for Decarbonization of California Energy System  -- California Energy Commission ($1.25M)
Integration of solar into the cloverleafs and diamond intersections -- California Department of Transportation ($250k)
Identifying and reducing barriers to TW scale deployment of solar energy -- NSF funding through Arizona State University; QESST Testbed 3: (~$200k)
Outdoor performance of GaAs panels relative to silicon panels -- Alta Devices (~$70k)
How to detect soiling of irradiance sensors -- Envision Energy ($19k)