What, When, & Where
The Pop-Up People's Pantry is a free food pantry that pops up every Saturday from 1:00 PM - 2:30 PM or until the food runs out at the 18th St. People's Garden, 936 W. 18th St., Merced, CA 95340. Please wear a mask and gloves and practice social distancing. Please bring reusable bags.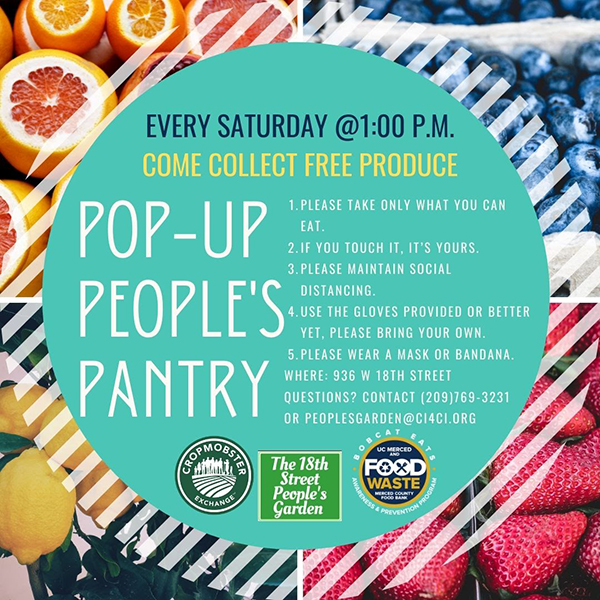 ---
Victory Garden 2.0
People can also pick up free seeds and plant starters as a part of the Victory Garden 2.0 Campaign. This campaign offers free seeds and starters to the community in return for them donating 50% of the food to the Pop-Up People's Pantry, the Merced County Food Bank, or their neighbor in need. Learn more and sign up here.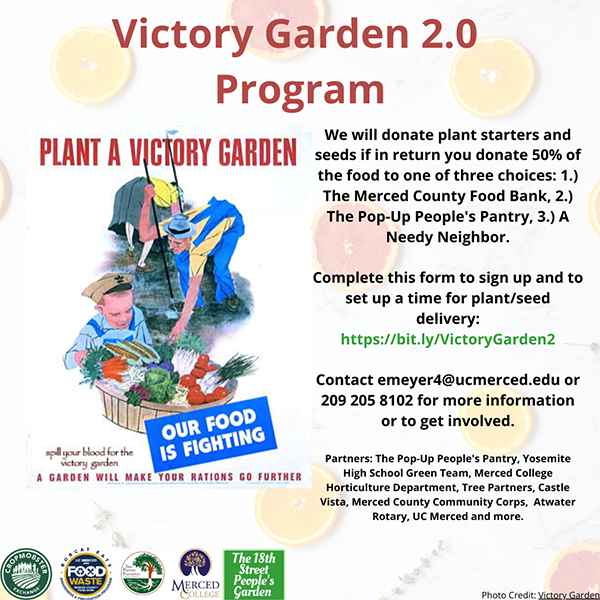 ---
Donations
The Pantry Accepts donations, especially fresh fruit and vegetables. To donate surplus fruit and vegetables from your fruit trees or garden or other food items, please contact Erin Meyer, Sustainable Food Programs Coordinator at emeyer4@ucmerced.edu, or at (209)-205-8102 or complete this form.
Facebook - Pop-Up People's Pantry
Instagram - @popuppeoplespantry