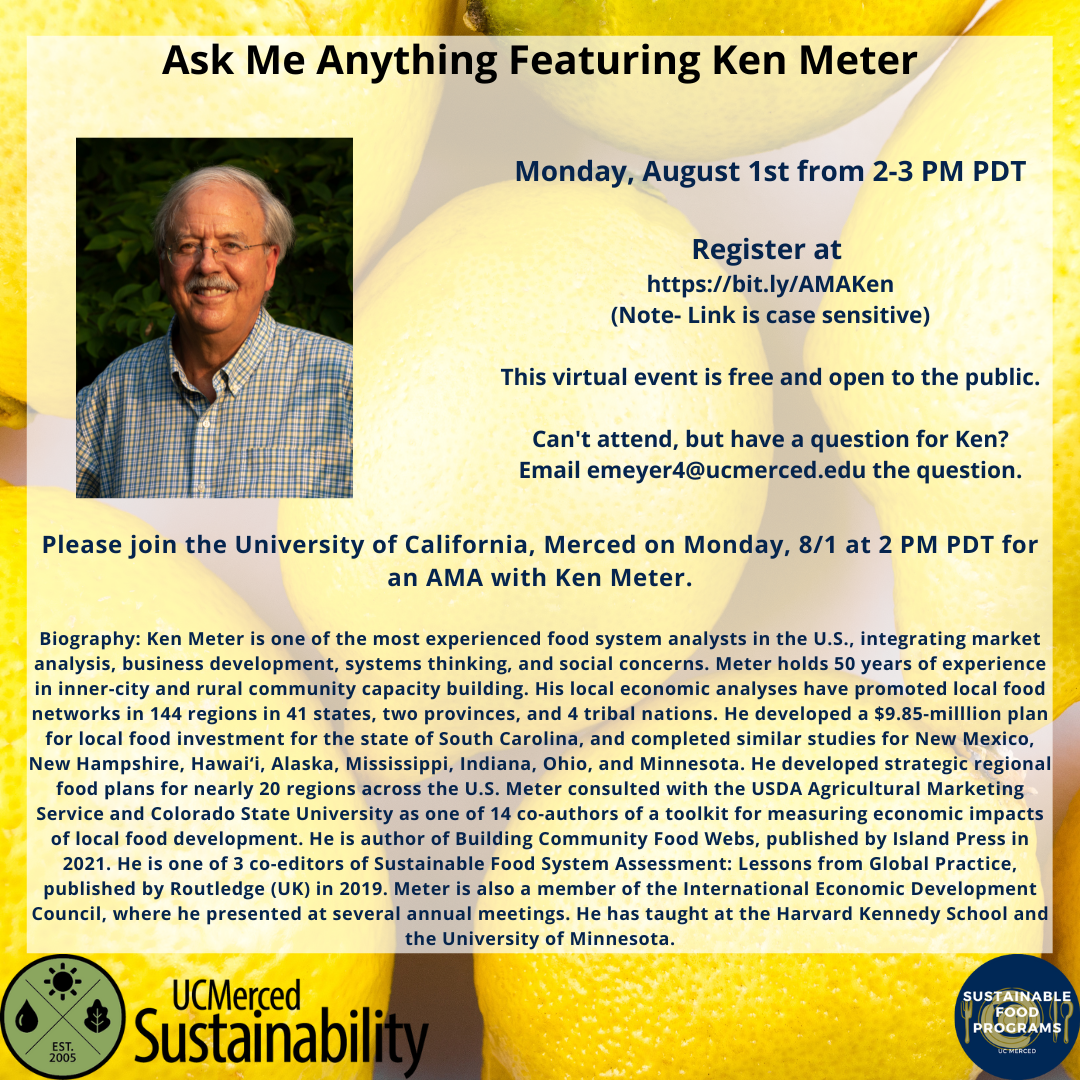 Please join the University of California, Merced on Monday, 8/1 at 2 PM PDT for an AMA with Ken Meter.
Can't attend, but have a question for Ken? Email emeyer4@ucmerced.edu the question.
This virtual event is free and open to the public. 
Register here: https://bit.ly/AMAKen (Link is case sensitive)
---
Biography: Ken Meter is one of the most experienced food system analysts in the U.S., integrating market analysis, business development, systems thinking, and social concerns. Meter holds 50 years of experience in inner-city and rural community capacity building. His local economic analyses have promoted local food networks in 144 regions in 41 states, two provinces, and 4 tribal nations.
He developed a $9.85-milllion plan for local food investment for the state of South Carolina and completed similar studies for New Mexico, New Hampshire, Hawai'i, Alaska, Mississippi, Indiana, Ohio, and Minnesota. He developed strategic regional food plans for nearly 20 regions across the U.S. Meter consulted with the USDA Agricultural Marketing Service and Colorado State University as one of 14 co-authors of a toolkit for measuring the economic impacts of local food development.
He is the author of Building Community Food Webs, published by Island Press in 2021. He is one of 3 co-editors of Sustainable Food System Assessment: Lessons from Global Practice, published by Routledge (UK) in 2019. Meter is also a member of the International Economic Development Council, where he presented at several annual meetings. He has taught at the Harvard Kennedy School and the University of Minnesota.