Reduce
Reduce! Waste Reduction at UC Merced
Reducing the amount of waste produced is a key component to achieving UC Merced's goal of producing zero waste by 2020, as part of the Triple Net Zero commitment. We are continuously working toward developing new sustainability solutions as well as improving our current system. Here are some of our completed and on-going projects.
Paper reduction
The default setting for office printers is double sided to help reduce paper waste. UC Merced's health center is now paperless!
Payroll Services and Student Business Services are also working to reduce our paper impact. Through Payroll Services, staff can sign up for direct deposit, online earning statements, and electronic W-2 forms. Through Student Business Services, students can sign up for direct deposit and can receive refund checks electronically (EFT).
UC Merced numbers as of February 2015:
Electronic W-2: 94.14%
Direct Deposit: 89.22%
Electronic Fund Transfer (EFT) for Student Refund: 72%
Hydration Stations
A faster and more convenient way to fill a water bottle. The hydration stations reduce plastic waste generated by disposable water bottles. Hydration stations can be found be throughout campus.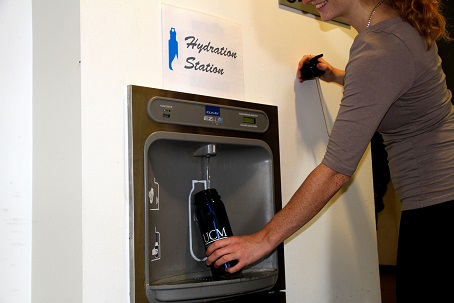 Restroom sustainability
We have adjusted the paper towels in the restrooms to spit out a shorter length of paper towel to help reduce waste. A few of our restrooms also feature Dyson Airblade hand dryer!