Establishment
In May of 2018, the University of California, Merced and the Merced County Food Bank launched the Bobcat Eats Food Waste Awareness and Prevention Program in an effort to reduce food waste at the food bank and to feed our community. The program worked to set up new food distribution sites in the County and to help the Food Bank implement best practices to reduce food waste. The program quickly gained traction and success. Upon hearing of this program, a community member alerted the coordinator of food being wasted at a local food establishment which prompted the program to start rescuing food from cafes, grocery stores, and flea markets. The program inspired the launch of the Bobcat Eats Food Network which works to reduce food from local farms and it led to the creation of No Food Left Behind, a free text messaging service at UC Merced that connects our UC Merced Community to events that might have food leftover.
---
Progression
The grant funding for the Bobcat Eats Food Waste Awareness and Prevention Program concluded in February 2020 and at the time, 26 food distribution sites were set up, relationships with more than 30 food vendors were arranged and a whopping 2,103,475 pounds of food was saved! 
The program continues on at UC Merced and still works to "save the food, feed the people".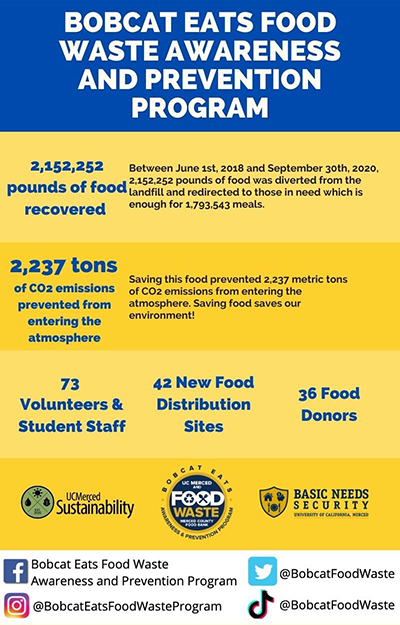 ---
Supporting Today
You can get involved too! Here's how:
Donate surplus food. Sign up here.
If you know of a location wasting food, lettuce know! We will contact them to set up food rescues.
If you work in a department or participate in a club or organization which orders food for events, be sure to make it a No Food Left Behind Event.
Volunteer with us to rescue food.
Contact us if you would like a presentation on food waste.
Sign up for Zero Waste Trainings.
For questions, comments, or to get involved with the program, please contact Erin Meyer, Sustainable Food Programs Coordinator, at emeyer4@ucmerced.edu or (209)-205-8102. Please leave any program feedback here.
Follow us on social media!
Facebook- Bobcat Eats Food Waste Awareness and Prevention Program
Instagram- BobcatEatsFoodWasteProgram
Twitter- BobcatFoodWaste