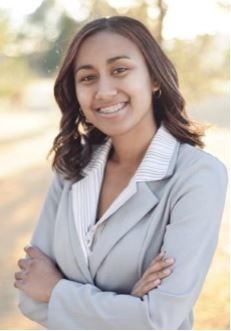 Breeana Sylvas currently serves as Interim Director of Sustainability for UC Merced within the division of Physical Operations Planning and Development (POPD) where she reports to the Vice Chancellor of POPD. Prior to serving as Interim Director, she was the Assistant Director of Sustainability, Strategic Planning, and Analytics for the campus. Breeana joined UC Merced in 2014 as Senior Analyst, where she reported to the Assistant Vice Chancellor for Strategic Facilities Planning. In that role, she developed renewable energy models to inform decision-making for UC Merced's 2020 project.
She has led multiple initiatives for the campus including, overseeing UC Merced's Association for the Advancement of Sustainability STARS Platinum rating certification. She also led UC Merced's Carbon Neutrality Initiative. UC Merced is one of only eleven institutions nationally that achieved AASHE STARS Platinum. The campus also became the first public research institution in the United States to achieve a carbon-neutral operation.
She developed the campus Sustainability Strategic Plan (2017-2022) with stakeholder input. She also developed the campus energy approach in 2019. The strategic plan won an award for large-scale planning. The energy approach won an award for renewable energy strategy.
In her role to date, Breeana provides support to campus departments, staff, faculty, and students on sustainability initiatives and programs. She is the chair of the Chancellor Advisory Committee on Sustainability and serves as co-chair of the University of California System Climate Change Working Group, where she has been a member since 2014. She has been tasked with the Assistant Vice Chancellor of Facilities Management to guide UC Merced's Decarbonization Study. In previous roles, she has worked in various capacities including for the Director of Budget for a municipality, where she worked on economic forecasts to inform revenue projections. She also worked with the Dean of the Graduate Schoo at a University to support efforts to increase graduate degree completion rates. 
She is the recipient of multiple leadership awards including the Merced Sun STAR Inaugural 20 under 40. She received a resolution from the New Mexico State University Board of Regents for dedicated service in official session. She also received an exceptional community service award from the State of New Mexico Office of African American Affairs located in Albuquerque New Mexico.
Originally from San Diego, she is very active. She enjoys gardening, biking, hiking, DIY projects, and swimming. She is also a member of civic organizations and is a musician that enjoys playing tunes when she has the time.
Breeana received her Master of Public Administration and Bachelor of Business Administration in Finance from New Mexico State University. She is LEED AP BD&C certified.